We offer the largest inventory of professional full-size casino equipment anywhere on the West Coast.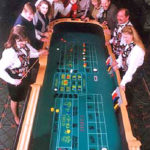 We Are Passionate About Quality and Authenticity!
Full size equipment – not "party" size
Up to 30% more playing space than other company's offer
Only the highest-quality materials are used to create our custom tables
More value, more interaction and more fun for your money!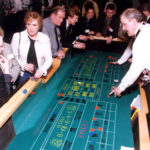 Guests Recognize When The Gaming Tables Are The Smaller Scaled Down Casino Party Models Instead of Our Real Full Sized Tables!
Many companies offer home built "party size" tables that simply don't feel right, don't look right and don't work as well in a party environment.
We use full sized authentic gaming equipment; from our casino dice to our lush padded, deep dyed blackjack layouts and real casino cards. Our top of the line equipment and great service ensures a flawless performance every time.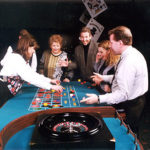 Why Are The Fantasy Casino's Full Sized Blackjack Tables So Important To You?
Our full sized Blackjack tables provide up to 30% more playing space than the smaller "party size" tables often used by other companies. This means more comfort and more guest interaction at the tables!
We can entertain far more players at our full sized tables than can be comfortably accommodated at the smaller sized home party versions. This saves you money, since you don't need as many tables, and this promotes better interaction and fun.
Simply put, you're getting more value, more interaction and more fun for your money.